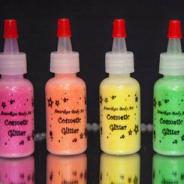 Clearance 2oz Glitter Bottles

I thought I was out of the printed 2oz bottles, but found one last case in the back of the warehouse. So I'm offering what's left at a 40% off clearance price. If you like the larger refill size bottles, this is a great time to stock up.
*Note for my OCD friends* This is just an aesthetic issue, but all of the bottles are printed with black ink, so you won't really see the text with some of the darker glitter colors.
$

5.99
$9.99
You Save $4.00