Biodegradable Glitter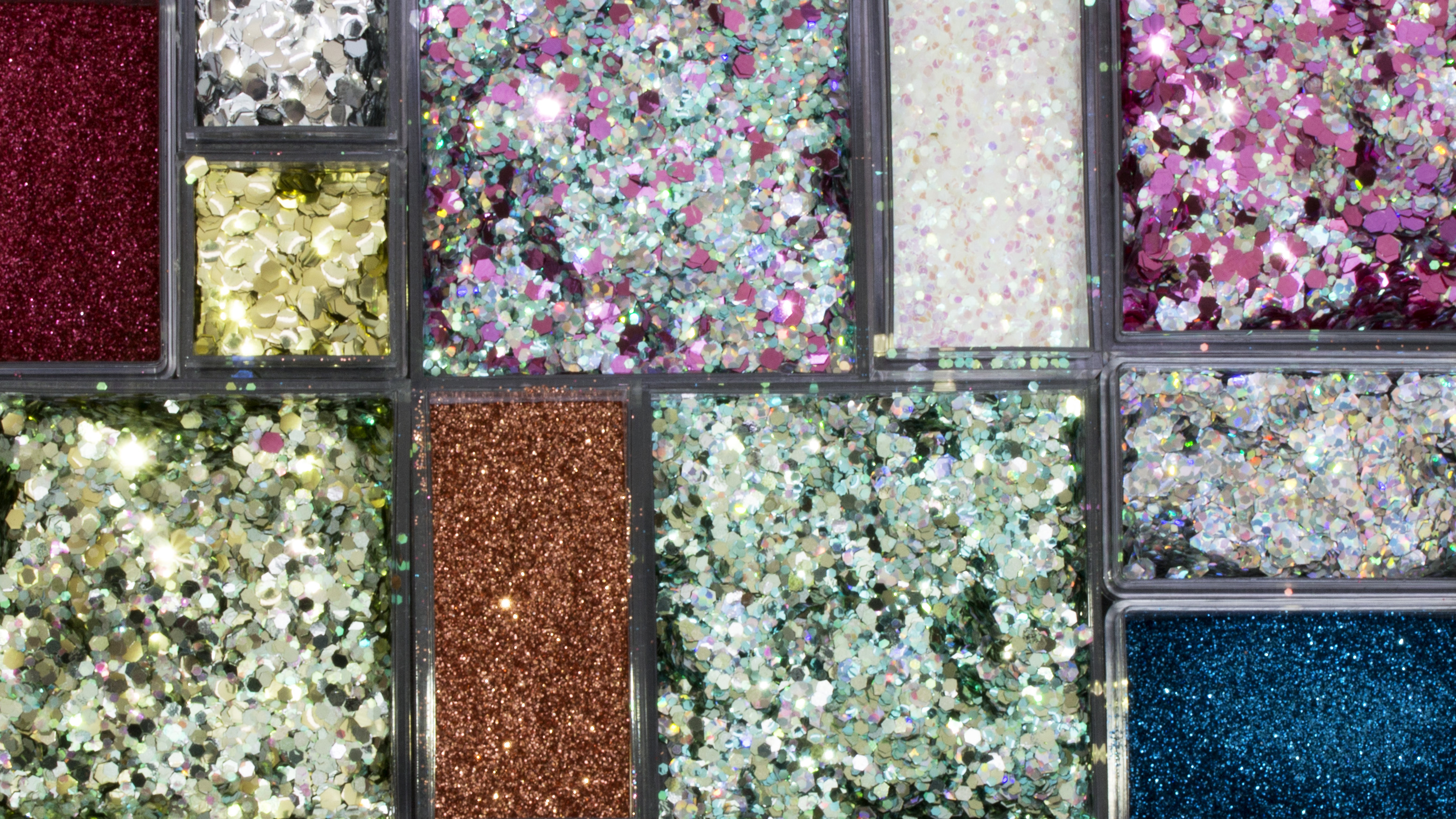 As bio-degradable glitter is a relatively new product, there are few suppliers offering it, and few colors/sizes available. Some of our glitters are sourced from our US manufacturer, and some are sourced from New Zealand. Manufacturing lead-times vary from 2 weeks - 2 months, so it's best to make sure you purchase enough to get you through any important upcoming events. We will do our best to maintain a variety of colors and sizes and to mark each of our bio glitters with expected availability, but we can't guarantee uninterrupted availability. Some colors/sizes have only become available to us as a limited edition sample, and are not currently in production.
Glitters are made from compostable/ biodegradable cellulose from eucalyptus or corn plants.
With the idea of eco-friendliness and sustainability in mind, we have put a lot of thought into packaging this line of glitter. We have chosen containers which are close-out containers from other companies and are recyclable or reusable. We are currently packaging our biodegradable glitters in recyclable glass bottles, reusable PET bottles, or "Better Bags" recyclable zip bags with 100% recycled labels. As the product line evolves, packaging may change if we find something better.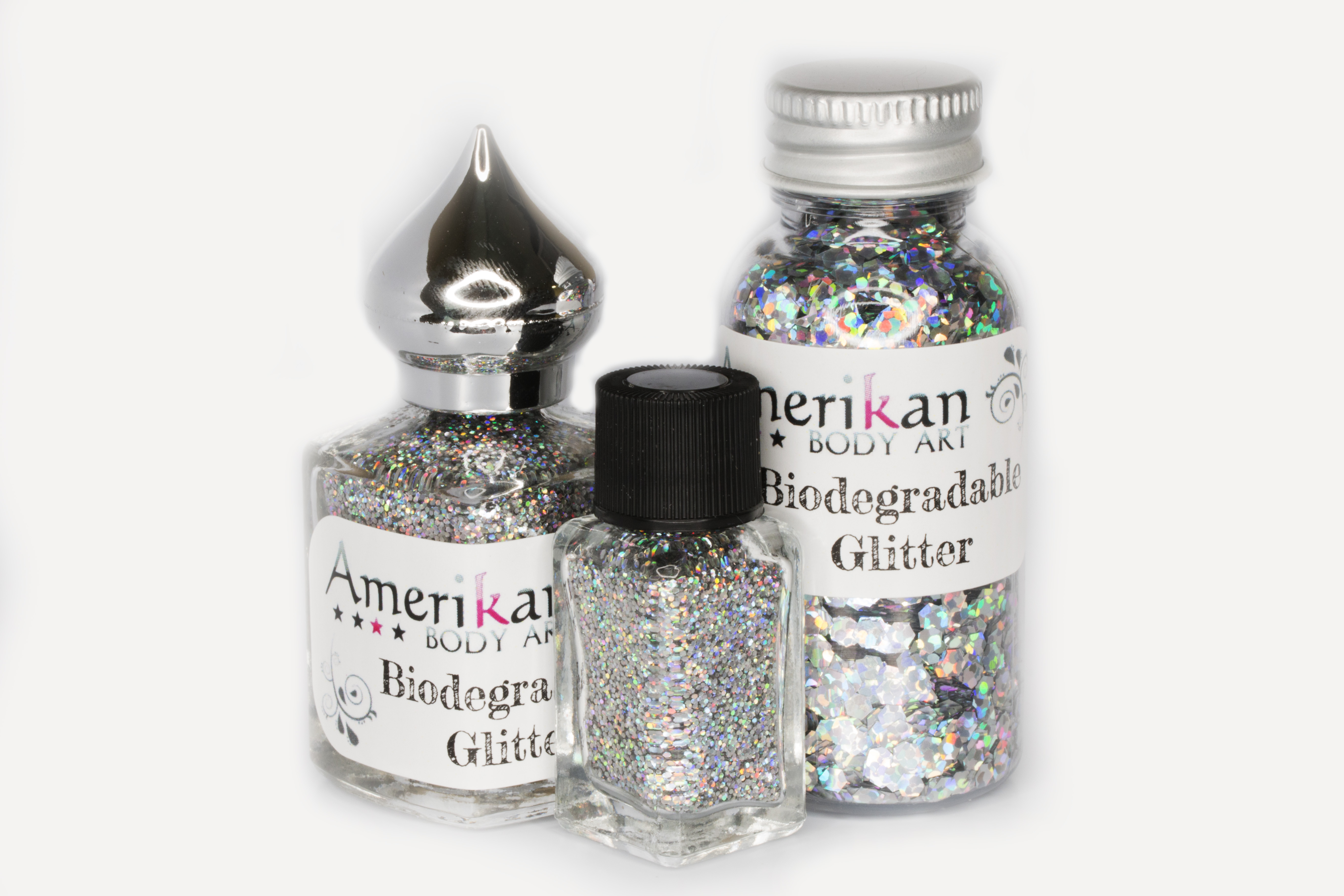 Glitter is packaged by volume in jars/bottles, as glitter weights vary depending on the fluffiness of the glitter.
5g glass bottles hold approximately 3g of glitter by weight.
15g glass bottles hold approximately 10g of ultra-fine glitter.
30g PET bottles hold approximately 15g of chunky glitter.
1oz and 1/2lb bulk bags are packaged by weight.
Glitter gels created with bio-degradable glitters will not have a long shelf life. We recommend mixing your own glitter gels in small quantities, as-needed.
Mica powders are mineral-based cosmetic powders. Mica powders can be mixed with aloe gel or other cosmetic mixing mediums. As they are mineral-based, they will not dissolve in water-based formulas, and will have a long shelf-life. Mica powders are packaged in 10g jars with sifter insert. Please see our Mica Powders page and Highlight & Sparkle page for more info about mica powders.
***To my dismay, I have learned that three of the Biodegradable glitters that we carry are likely not marine-biodegradable...at least they have not been proven to degrade in natural waterways. We are still waiting for testing from the manufacturer. While they are technically biodegradable, the scientific papers that I've read, lead me to believe that they will only degrade in a composting environment, with heat, soil, and microbes. I know that most people who are purchasing the biodegradable glitters, are doing so out of concern for marine life. As they are biodegradable in some situations (and every little bit helps), I won't return them to the manufacturer. But unless they can be proven to be biodegradable in natural bodies of water, I do not intend to restock them.
The 3 glitters are the "Opal" glitters.
Opal Water
Opal Fire
Opal Earth
These 3 glitters are made from polyactide, which is a blend of biodegradable cellulose, but the coating/binding process makes the breakdown of these glitters take a very long time...too long.
I apologize for not learning this sooner. I was relying on information from the manufacturer with regards to biodegradability. They seemed quite certain that these glitters would meet our standards. I should have specified "marine-biodegradable," but I also feel like they should have been a little more forthcoming with this information when I described the concerns of my customers and how the products would be used.
We are satisfied that the remaining colors in our biodegradable line should biodegrade under normal conditions, even in a marine environment. I will be more careful in the future to only purchase glitters from the "cellulose" line of glitters. ~Erika