Pixie Paint

Pixie Paint is a blend of chunky and fine glitters along with our aloe glitter gel base. You can paint it on the face, body, and hair. It's perfect for Glitter Roots, cute Pixie-ish accents on the cheeks, and extreme coverage for dance clubs or festival body painting. Pixie Paint tends to stay put all day, with very little fallout, but can be easily washed off with water.
DO NOT use this product on eyelids or very close to eyes. Chunky glitters are designed for special effects, and are not considered safe to use as eye makeup. Avoid use on very small children if there is a danger of them rubbing the glitter into their eyes.
Pixie Paint can look sheer or provide moderate to heavy glitter coverage, depending on how you apply it. If you want more solid glitter coverage, you can apply Pixie Paint, and while the gel is still wet, dab on additional loose glitters. We have a huge variety of Chunky Glitters available, in addition to our regular ultra-fine glitters.
If you'd like to make your own Pixie Paint, simply blend our Aloe Gel base with any of our glitters that specifically state "Can be used in glitter gel." Some glitters will dissolve in a water-based gel, so be sure to check for that information.
If you're addicted to glitter like we are, you might want to start with the 1oz jars so you have room to carry all the Pixie Paint colors in your kit.
Once your customers see how fabulous the Pixie Paint looks in person, you'll definitely want to move up to the 4oz size jars for your favorite colors.
Our Bulk sizes of Pixie Paint come in 10oz and 32oz (by weight) icing bags. To fill your own containers, simply snip the tip of the bag and squeeze. The 32oz bag fills approximately (24) 1oz jars.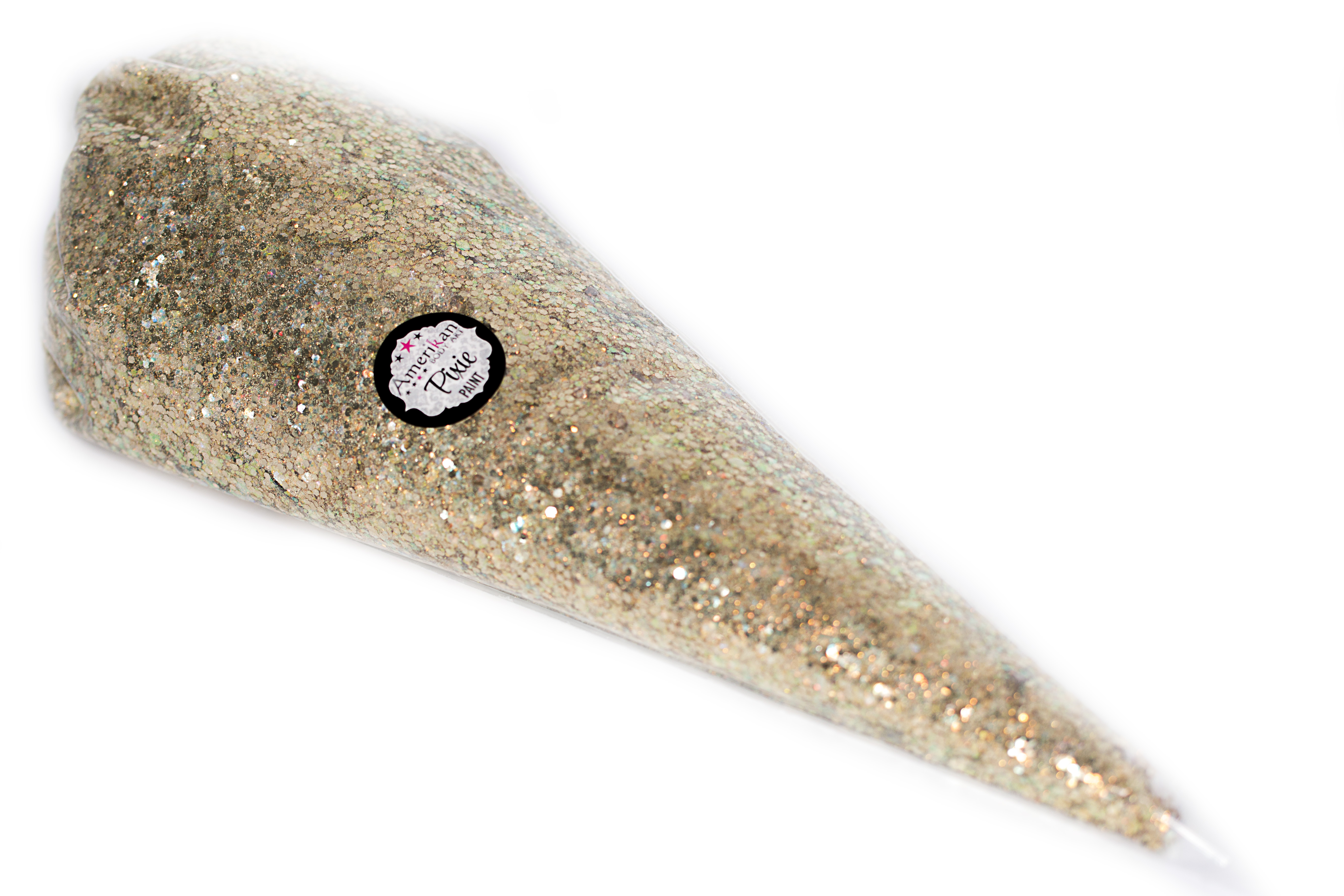 Pixie Paints Ingredients:
Gel Base (72%) Water, Carbomer, Triethanolamine, Jojoba Oil, Aloe Vera, Vitamin E, (less than 1% Germall Plus Preservative) and Glitter (28%): Polyethylene Terephthalate, Polyurethane 33, May contain the following colorants: FD&C Yellow No 5, FD&C Blue No 1, Prussian Blue, D&C Red No 7, FD&C Red No 40, D&C Red No 34, D&C Black No 2, Titanium Dioxide, Iron Oxide, Aluminum