Glitter Cremes
Glitter Cremes are our newest glamour makeup creation. They were designed for high fashion makeup looks, and much to our surprise, give incredible coverage that also makes them suitable for body painting.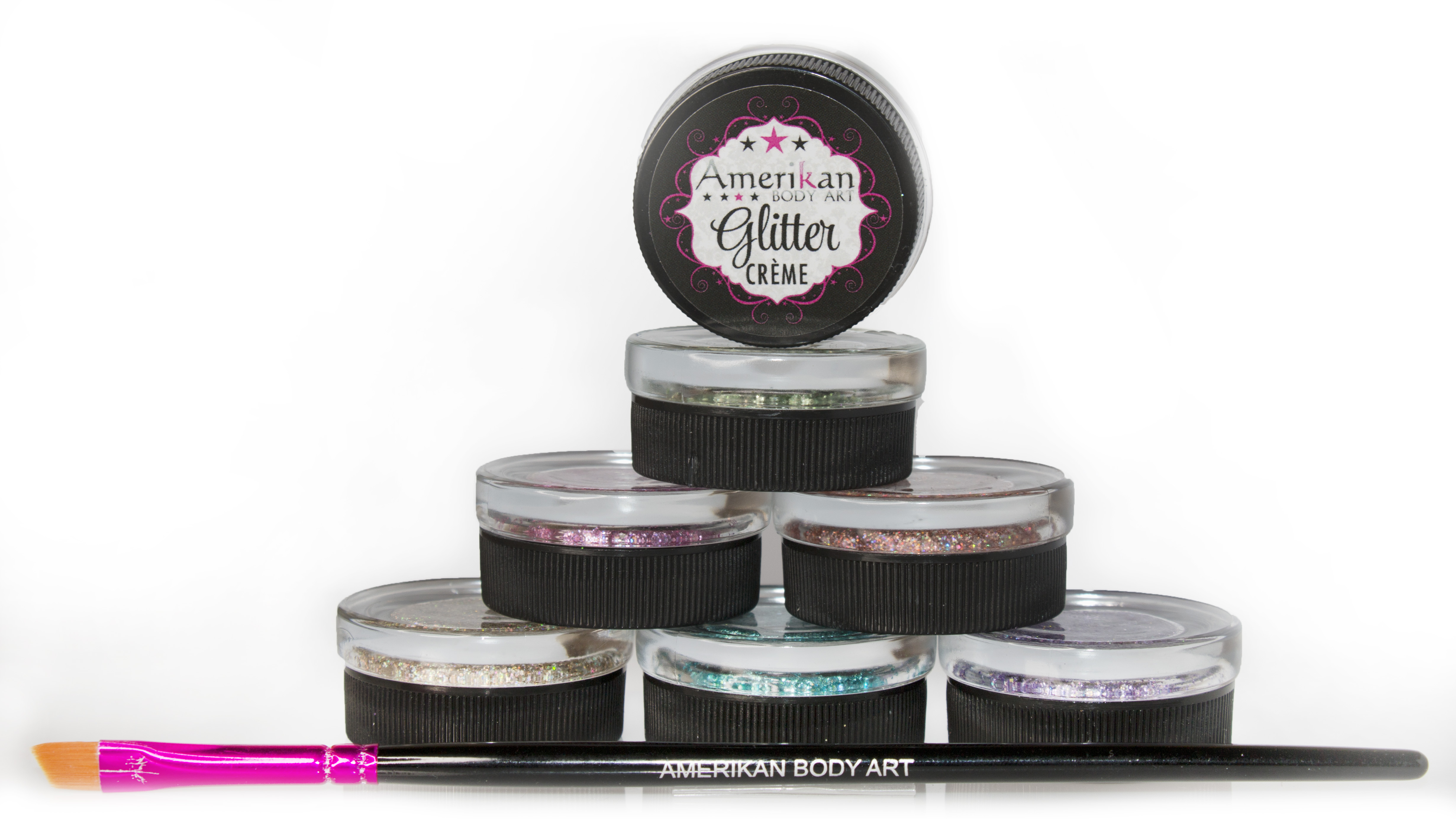 When using as makeup, the best application tools are your finger, or a flat brush. We like using our Angled Eyeliner Brush.
For large area application, a regular wedge makeup sponge works great.
To remove Glitter Cremes, the fastest method seems to be just wiping with a paper towel. The product base is waxy, like a lip balm, so it comes off well with a good wipe. Any remaining residue can be washed off with soap and water or your regular makeup remover.
This is not a water-proof, smudgeproof type of makeup, but it does hold up well for most applications.
We are currently offering this in a 10g jar, and a 30g jar.
Our current line is created with our regular glitters, but in the near future, we intend to create a few biodegradable glitter options as well.
**********
Ingredients: Glitter, Lauryl laurate, caprylic/capric triglyceride, polyhydroxystearic acid, isododecane, trimethylsiloxysilicate resin, candelilla wax, octyldodecanol, sunflower wax, silica, dimethicone, tocopherol
Keep in mind that colors may appear different on a computer monitor than they do in real life. We understand that glitter color can be very important. If you have a project that requires precise color, we encourage you to order a sample first as glitter is not returnable.
Glitter cremes contain mostly .008" hex size glitters, which are considered eye-safe by industry standards. But they do contain a pinch of .025" hex glitters to add some extra dimension. Our .025" hex glitters are made from the same polyester material and cosmetic-safe pigments as our ultra-fine cosmetic glitters. However, please use professional discretion when using larger glitter particles on the face. They should not be used near or on the eyes of children who may be prone to rubbing their eyes.