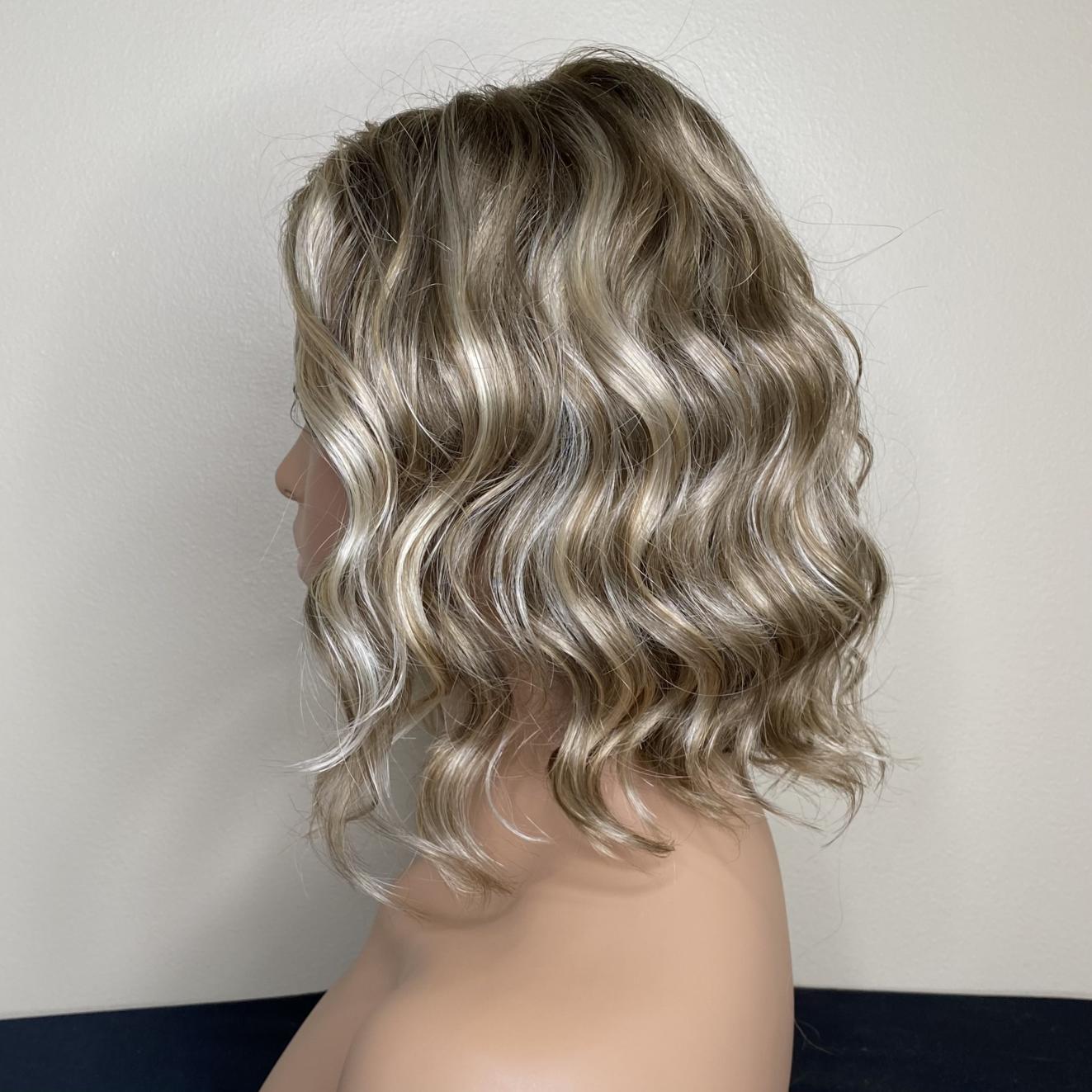 Julianne (Showroom Sample Sale) 12FS12 Malibu Blonde

Showroom Sample Sale: Julianne Synthetic SmartLace wig in 12FS12 Malibu Blonde
There are no returns on this item.
____________________________
Welcome the sunshine with the effortless beach waves of this asymmetrical style. This 100% hand tied wig features a SmartLace front and mono top for ultra natural multidirectional styling.
SPECIFICATIONS
Item Number: 5968
Collection: SmartLace
Color Shown: 22F16S8, 101F48T, FS6/30/27, 12FS8
Cap Design: Lace Front / Single Monofilament / Hand tied
Cap Size: Average
Hair Type: Synthetic
Bang: 10.5"
Crown: 12.25"
Nape: 5.75"
Side: 9.5"
Weight:3.5 oz
Colors: 1, 1B, 1BRH30, 4, 4/27/30, 4/33, 6, 6/33, 6F27, 8/32, 8RH14, 10/26TT, 10RH16, 12/30BT, 14/26, 22F16, 24B22, 24BT18, 27MB, 27T613F, 32F, 39F38, 56F51, 60, 101F48T, 12FS8, 12FS12, 14/26S10, 22F16S8, 24BT18S8, 27T613S8, 30A27S4, FS2V/31V, FS4/33/30A, FS6/30/27, FS17/101S18, FS24/102S12, FS26/31, FS26/31S6, FS27, FS613/24B
$

265.00
$528.00
You Save $263.00
This chart shows the colors for all Synthetic hair items currently on the site. Not all products come in all colors. Check the drop down box for colors available on each product.
To see a larger image, right click the image and open in a new tab.
4

Brownie Finale

Dk Brown

4/27/30

German Chocolate

Dk Brown, Lt Red-Gold Blonde & Red-Gold Blend

4/33

Chocolate Raspberry Truffle

Dk Brown & Med Red Blend

6

Fudgesicle

Brown

6/33

Raspberry Twist

Brown & Med Red Blend

6F27

Caramel Ribbon

Brown w/ Lt Red-Gold Blonde Highlights & Tips

8

Cocoa

Med Brown

8/30

Cocoa Twist

Med Brown & Med Red-Gold Blend

8/32

Cocoa Bean

Med Brown & Med Natural Red Blend

8rH14

Hot Cocoa

Med Brown w/ 33% Med Natural Blonde Highlights

10

Luscious Caramel

Lt Brown

10/26TT

Fortune Cookie

Lt Brown & Med Red-Gold Blonde Blend w/ Lt Brown Nape

10H16

Latte

Lt Brown w/ 20% Lt Natural Blonde Highlights

10H24B

Lt Brown w/ 20% Lt Gold Blonde Highlights

10RH16

Almondine

Lt Brown w/ 33% Lt Natural Blonde Highlights

12

Coffee Cake

Lt Gold Brown

12/30BT

Rootbeer Float

Lt Gold Brown & Med Red-Gold Blend w/ Med Red-Gold Tips

14

Med Natural-Ash Blonde

14/24

Med Natural-Ash Blonde & Lt Natural Blonde Blend

14/26

Pralines& Cream

Med Natural-Ash Blonde & Med Red-Gold Blonde Blend

16/22

Banana Cream

Lt Natural Blonde & Lt Ash Blonde Blend

22F16

Blonde Brownie

Lt Ash Blonde & Lt Natural Blonde Blend w/ Lt Natural Blonde Nape

22MB

Sesame

Lt Ash Blonde & Lt Natural Gold Blonde Blend

24B22

Crème Brulee

Lt Gold Blonde & Lt Ash Blonde Blend

24B/27C

Butterscotch

Lt Gold Blonde & Lt Red-Gold Blonde Blend

24B613

Lt Gold Blonde & Pale Natural Gold Blonde Blend

24BT102

Lt Gold Blonde & Pale Natural Blonde Blend w/ Pale Natural Blonde Tips

24B18

Dk Natural Ash Blonde & Lt Gold Blonde Blend

24BT18

Éclair

Dk Natural Ash Blonde & Lt Gold Blonde Blend w/ Lt Gold Blonde Tips

24BT18F

Bavarian Cream

Dk Natural Ash Blonde & Lt Gold Blonde Blend w/ Lt Gold Blonde Tips, w/ Dk Natural Ash Blonde Nape

27B

Peach Tart

Lt Gold-Red Blonde

27T613

Marshmallow

Med Red-Gold Blonde & Pale Natural Gold Blonde w/ Pale Natural Gold Blonde Tips

27T613F

Toasted Marshmallow

Med Red-Gold Blonde & Pale Natural Gold Blonde Blend w/ Pale Tips & Med Red-Gold Blonde Nape

27MB

Strawberry Shortcake

Dk Red-Gold Blonde

27T33B

Cinnamon Toast

Med Red-Gold Blonde & Med Red Blend w/ Med Natural Red Tips

30A

Hot Pepper

Med Natural Red Blonde/Brown

32F

Cherry Crème

Med Red & Med Red-Gold Blonde Blend w/ Med Red Nape

33

Boysenberry

Med Natural Red

130/4

Paprika

Dk Brown, Dk Red & Med Red Blend w/ Med Red Tips

130/28

Pumpkin Spice

Med Red & Lt Natural Red Blonde Blend

130/31

Cherry Cobbler

Med Natural Red Brown & Med Red Blend w/ Med Red Tips

38

Milkshake

Med Brown w/ 35% Lt Grey

39

Lt Natural Ash Brown w/ 75% Lt Grey

39/38

Lt Natural Ash Brown w/ 75% Lt Grey Front & Med Brown w/ 35% Grey Blend

39F38

Roasted Chestnut

Lt Natural Ash Brown w/ 75% Grey Front, graduating to Med Brown w/ 35% Grey Nape

44

Marble Fudge

Pure White w/ 35% Dk Natural Brown

51

Licorice Twist

Lt Grey w/ 30% Dk Brown

54

Vanilla Mousse

Lt Grey w/ 25% Med Natural Gold Blonde

56

Vanilla Marble - Lt Grey w/ 20% Med Brown

56/61

Lt Grey w/ 20% Med Brown & Lt Grey w/ 30% Dk Brown Blend

56F51

Oyster

Lt Grey w/ 20% Med Brown Front, graduating to Grey w/ 30% Med Brown Nape

59

Baked Alaska

Pure White w/ 5% Dk Brown

60

Winter Sun

Pure White

92

Pure White w/ 5% Med Brown Front, Grey w/ 30% Med Brown Middle, Dk Brown w/ 65% Grey Nape

101F48T

Martini

Soft White Front, Lt Brown w/ 75% Grey Blend w/ Soft White Tips

613

Pale Natural Gold Blonde

Shaded/

Rooted Colors

12FS8

Shaded Praline

Lt Gold Brown, Lt Natural Gold Blonde & Pale Natural Gold-Blonde Blend, Shaded w/ Med Brown

14/26S10

Shaded Pralines & Cream

Lt Gold Blonde & Med Red-Gold Blonde Blend, Shaded w/ Lt Brown

24B18S8

Shaded Mocha

Med Natural Ash Blonde & Lt Natural Gold Blonde Blend w/ Lt Natural Gold Blonde tips, Shaded w/ Med Brown

24BT18S8

Shaded Mocha

Med Natural Ash Blonde & Lt Natural Gold Blonde Blend w/ Lt Natural Gold Blonde tips, Shaded w/ Med Brown

27T613S8

Shaded Sun

Med Natural Red-Gold Blonde & Pale Natural Gold Blonde Blend and Tipped, Shaded w/ Med Brown

FS26/3156

Salted Caramel

Med Natural Red Brown w/ Med Red Gold Blonde Bold Highlights, Shaded w/ Brown

30A27S4

Shaded Peach

Med Natural Red & Med Red-Gold Blonde Blend, Shaded w/ Dk Brown

22F16S8

Venice Blonde

Lt Ash Blonde & Lt Natural Blonde Blend, Shaded w/ Med Brown

FS17/101S18

Palm Springs Blonde

Lt Ash Blonde w/ Pure White Natural Violet Bold Highlights, Shaded w/ Dk Natural Ash Blonde

FS24/102S12

Laguna Blonde

Lt Natural Gold Blonde w/Pale Natural Gold Blonde Bold Highlights, Shaded w/ Lt Gold Brown

12FS12

Malibu Blonde

Lt Gold Brown, Lt Natural Gold Blonde & Pale Natural Gold-Blonde Blend, Shaded w/ Lt Gold Brown

Syrup/

Highlighted Colors

FS2V/31V

Chocolate Cherry

Black/Brown Violet, Med Red/Violet Blend w/ Red/Violet Bold Highlights

FS4/33/30A

Midnight Cocoa

Dk Brown, Med Red, Med Natural Red Blonde/Brown Blend w/ Med Natural Red Blonde/Brown Blend Bold Highlights

FS6/30/27

Toffee Truffle

Brown, Med Red-Gold, Med Red-Gold Blonde Blend w/ Med Red Gold Blonde Bold Highlights

FS10

Toffee Syrup

Lt Brown with Natural Gold Blonde Bold Highlights

FS10/16

Walnut Syrup

Lt Brown w/ Natural Blonde Bold Highlights

FS12/24B

Cinnamon Syrup

Lt Gold Brown w/ Gold Blonde Bold Highlights

FS26/31

Caramel Syrup

Med Natural Red Brown w/ Med Red Gold Blonde Bold Highlights

FS27

Strawberry Syrup

Med Red-Gold Blonde w/ Gold Blonde Bold Highlights

FS613/24B

Honey Syrup

Gold Blonde w/ Pale Natural Gold Blonde Bold Highlights