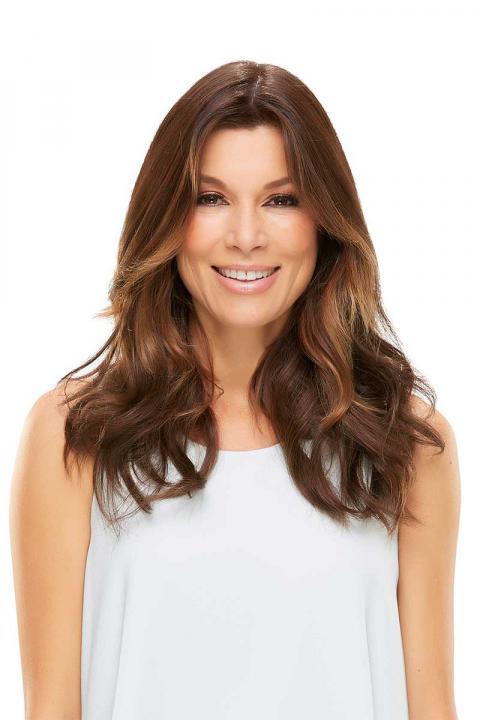 easiPart HD Hair Topper 18"

This one-piece volumizer, available in lengths of 12 and 18 inches, adds instant thickness and body, clipping in quickly for all-day comfort. The ultra natural feeling HD fiber can be styled with heat and parted in any direction. For extra volume and coverage, choose the new easiPart XL with a larger base construction.
SPECIFICATIONS
Item Number: 360
Color Shown: 6
Hair Type: Heat Resistant Synthetic
Base Dimension: 2.75" x 5"
Collection: Toppers
Application Method: Clip In
Length: 18"
Weight: 1.8 oz
Base Design: Single Monofilament with a PU Perimeter
$

160.65
$189.00
You Save $28.35
SKU

360
Right click images and open in a new tab for a larger image.
See color cards in image series above for descriptions of colors.
Heat Defiant Colors:
| | | | | | |
| --- | --- | --- | --- | --- | --- |
| 1B | 1BRH30 | 4 | 4/27/30 | 4/33 | 6 |
| 6/33 | 6F27 | 8 | 8/30 | 8RH14 | 10H24B |
| 10/26TT | 12FS8 | 12/30BT | 14/24 | 14/26 | 14/26S10 |
| 22MB | 22F16 | 24B22 | 24B18 | 24B18S8 | 24BT18 |
| 24BT18F | 24B/27CS10 | 24B613S12 | 27MB | 27B | 27T613 |
| 27T613F | 31/26 | 32F | 33 | 38 | 56/51 |
| 56F51 | 60 | 101/48T | 613 | 22F16S8 | 12FS12 |
| 24BT18S8 | 27T613S8 | 30A27S4 | FS2V/31V | FS4/33/30A | FS6/30/27 |
| FS26/31 | FS26/31S6 | FS27 | FS17/101S18 | FS24/102S12 | FS613/24B |