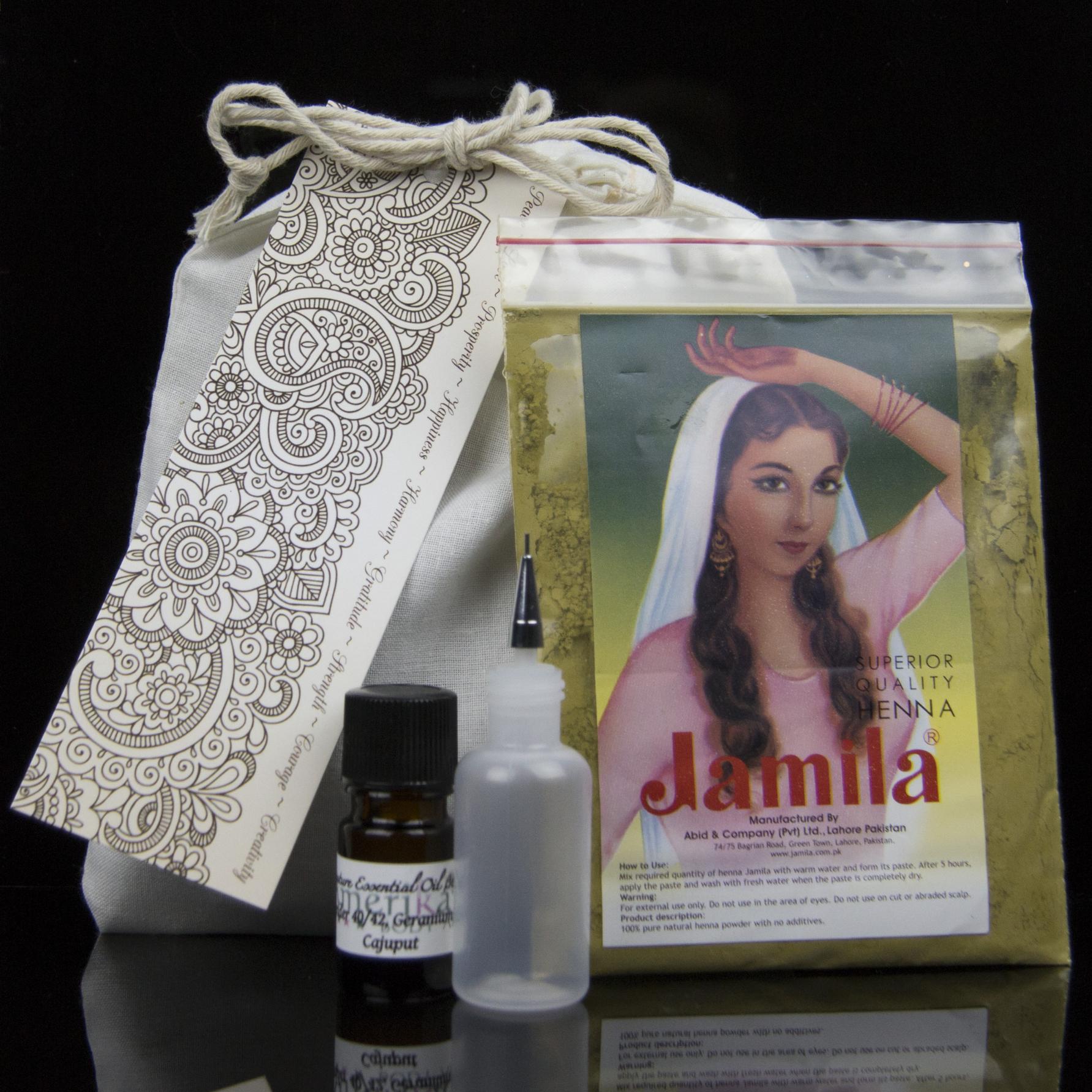 Fun Size Henna Kit
Fun Size Henna Kit
4
Average rating:

(4)
This starter kit contains everything you need (except lemon juice and sugar) to make a batch of henna paste on your own as well as step-by-step instructions. It makes enough henna paste to create over 75 henna tattoos.
I always tell my students that this whole business started with a $15 henna kit...You never know where this might take you.
Our Fun Size Henna Kit Contains:
25g Jamila Henna Powder (2018 crop)

Your choice of 5ml Essential Oil

1 Carrot bag (for filling your applicators)

Your Choice of henna applicator
This kit comes packaged in a cotton muslin bag that can be decorated with henna paste for a keepsake or gift bag. Insert a flat piece of cardboard or a few sheets of paper so that the henna does not bleed from one side of the bag to the other. Apply henna paste to the bag, the same as you would to skin. Leave the paste on for a few days for maximum penetration. then scrape off the henna paste. The stains will be permanent. The tag on the kit also doubles as a henna-themed book mark. We love to Reuse & Recycle!
Reviews:

Worth it!
01/21/2019
Great quality items, easy instructions, nice packaging, and the henna turned out great! It was my first time ever making henna, and I was very happy with the results using this kit. Would definitely recommend!
Great product
07/29/2016

This is my favorite henna to use!
Great starter kit
05/21/2016

This is a great starter kit and practice kit. I think the value for what you get is great. Highly recommend.
Order yours today!!!
08/21/2014

Great products come right to your door which are very well packaged, safe and affordable. HIGHLY RECOMMEND!!!